This is how the heat turnaround in historically protected buildings succeeds
How can the heat demand of a heritage-protected administrative building be reduced and at the same time save money and CO2 without requiring constructional measures? The answer is provided by the Kirchenkreis Schleswig-Flensburg, which relies on intelligent heat management from vilisto. 
While numerous attractive energy efficiency measures are available for new buildings, owners of existing buildings are often faced with a dilemma. Not only municipalities complain that many buildings are poorly insulated and thus cause high heating costs. Better heat insulation is often very expensive and often only pays off after decades, even with KfW funding. Especially if the building is a listed building and normal insulation cannot be used at all.
Jürgen Nielsen, energy manager of the Kirchenkreis Schleswig-Flensburg, also faced such a challenge. The Evangelical Lutheran Church in Northern Germany (Nordkirche) is making numerous efforts in the area of digitalization and climate protection. Its mission and a particular concern is environmental and climate protection. After all, only by preserving a livable foundation on our planet is life possible for future generations. For this reason, the Nordkirche has committed itself to being carbon-neutral by the year 2050. To this end, climate protection measures are being developed and implemented in the areas of "buildings and energy," "mobility," and "procurement." This is an undertaking that is the equivalent of a Herculean task in view of the numerous old and listed properties.
"Here in our listed administrative building from the 15th century, we have numerous users with very different heating needs. But hardly anyone thinks to turn back the radiator valves after hours." The heating system also made classic renovation measures difficult. "The control of our natural gas heating system is so complex that even the current maintenance company can't really figure it out," Nielsen complains. "Even hydraulic balancing of the radiators has not yet brought any measurable savings."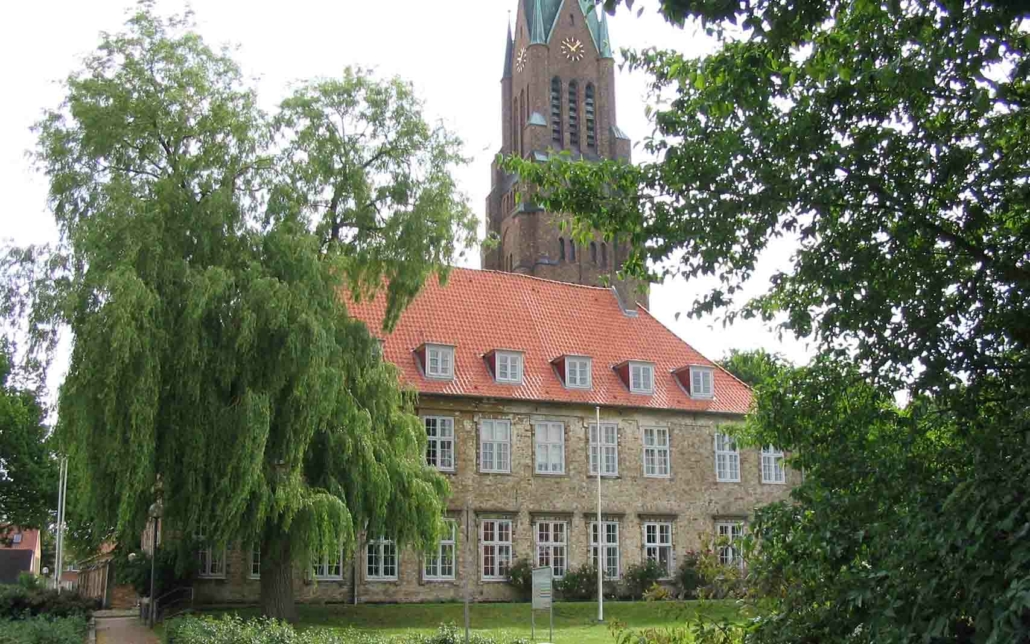 An intelligent, digital heat management system is the ideal solution: self-learning thermostats that heat the rooms fully automatically only as needed, thus reducing heat consumption without any changes in employee behavior and without any structural measures. An investment that is profitable in several ways. According to vilisto's savings analysis, it is expected that up to 25% of natural gas consumption can be reduced and around 11 t of CO2 emissions avoided per year. The federal subsidy for efficient buildings has further shortened the already short payback period, so that the investment pays for itself in less than 5 years.
Together with vilisto, which provides the innovative thermostats including control and portal, and schäffler sinnogy, which provides technical support for the project as a certified energy efficiency expert, the Nordkirche put this promising project into practice. At the end of April 2021, 85 self-learning thermostats were installed in the listed administration building and 37 thermostats were also installed in the regional center in Kappeln. The different usage scenarios can now be automatically taken into account so that heat consumption in the coming heating season is adjusted to actual demand.
Vivien Eggers, vilisto's project manager for heat management, adds: "We are delighted to have found another partner in the Kirchenkreis Schleswig-Flensburg, which is particularly concerned about environmental and climate protection, and we can work together to bring about the heat turnaround in historically protected buildings. We are very much looking forward to further, sustainable cooperation."
https://www.vilisto.de/wp-content/uploads/2021/08/Hauptgebaeude-Suedwest.jpg
1280
1707
Emma
https://www.vilisto.de/wp-content/uploads/2020/11/vilisto-logo.png
Emma
2021-08-11 10:07:16
2021-08-11 10:23:35
This is how the heat turnaround in historically protected buildings succeeds